Well, it's been a while since I've posted, and I completely missed release day posts for Scrap Matters AND Sarah Bennett, but that's because this past weekend was Thanksgiving for me!! We went out of town and spent the weekend at my parents' house for an early Thanksgiving feast... and it was so fun!
But it's back to business today, and I've been trying to catch up on everything in the digi-scrapping world. I have quite a few things to share with you today!
First, here's a page that I did last week with a new release from
Stolen Moments
called
Chocolate Covered Snow Flakes
. I also used her new template pack,
Scraps by Number: Just Call Me Lori
. This kit has such adorable elements in it and I love the colors!
I used two other Scrap Matters new releases in this page:
Happiest Season of All
is by
Britt-ish Designs
and is SUCH an adorable Christmas kit. This color combination is so cheerful!
I also used a new Template (
Completely Clustered 2
) from
Saya's Blueprints
. Her templates are fantastic!
Next up is Sarah Bennett's new release from yesterday:
Cut it out Vol. 2
These shapes are SO cute and I'm determined to get a layout done with them this week. Maybe tonight after the kids go to bed....
Last but not least, I wanted to let you know about Scrap Matters' Black Friday sale!!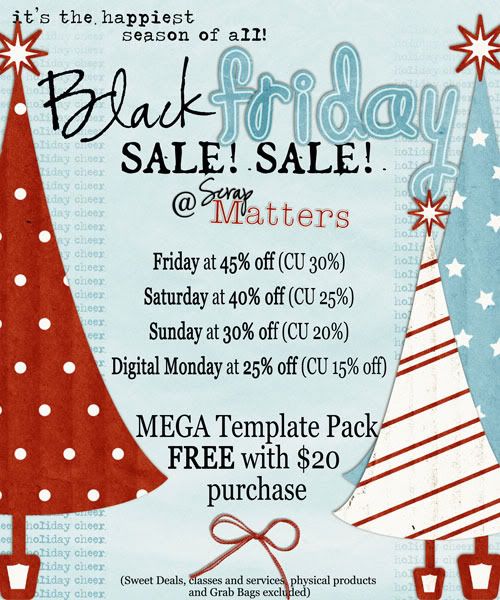 I've seen the template pack (and contributed a template!) and it's seriously awesome!! You don't want to miss it!!